SSC Ultimate Aero EV claims 200 mile-range, 10 minute recharging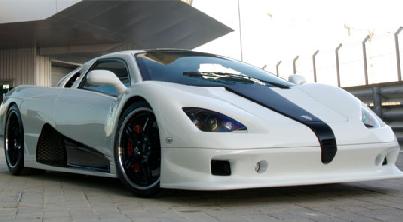 The Ultimate Aero EV will feature SSC's newly developed package called the All-Electric Scalable Powertrain (AESP). The system utilizes a lithium battery pack with the ability to charge via a 110-volt outlet in only 10 minutes. The pack, SSC maintains, provides a 150-200 mile range. The Ultimate Aero EV will combine this juice storage with a pair of 500 horsepower electric motors to achieve these claims. It all certainly comes off as a hard pill to swallow... More info
2010 Mercedes-Benz E-Class gets AMG sports package
For those more interested in the way their car looks or goes around corners than how fast it accelerates, Mercedes-Benz has announced an AMG sports package that will be optional with any powerplant available for the new 2010 E-Class hitting European showrooms in March. Exact pricing depends on the engine chosen and will start at around 3,000 Euros (around $3900 USD). For that sum, the buyer gets a unique set of aprons along with side skirts and 18-inch AMG alloy wheels. More info
Chrysler and Fiat announce partnership
Chrysler announced this morning that the beleaguered automaker has entered into a global strategic alliance with Fiat SpA, giving both companies access to each others' products and markets. Fiat will also lend a hand in developing a business plan to present to the US Treasury; bringing to bear experience gained through the Italian auto giant's own restructuring. Overnight, Chrysler gets access to a range of small, fuel-efficient cars that are nothing like what is currently offered in Pentastar showrooms.Fiat's engineering will be ported over to some Chrysler manufacturing sites, keeping the plants busy and offering both brands ample capacity for the parts they will need to build cars. More info
Lexus recalling 214,500 GS, IS, and LS models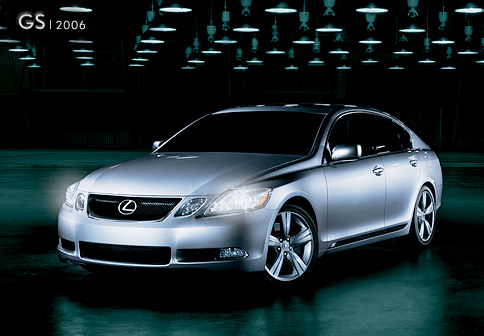 Toyota is recalling around 214,500 2006-2008 GS300/350, IS250/350 and LS460/460L sedans over potentially faulty fuel delivery pipes. The Japanese automaker is working with NHTSA on the US recall, which centers around fuel pipes that can corrode, eventually resulting in a leak. The problem reportedly stems from certain ethanol fuels with low moisture content that can lead to rust, occasionally (but not always) triggering a dashboard indicator lamp indicating a system malfunction. More info
Pagani Zonda R officially unveiled in Vienna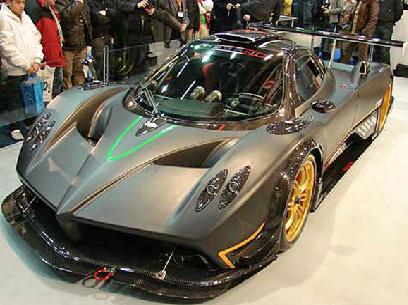 The Pagani Zonda did something incredible. It proved that the supercar world did not revolve around Ferrari and Lamborghini. So to commemorate Horacio Pagani's achievement, the hypercarmaker has created one last version of the Zonda before its replacement arrives next year.After 24 months of development, and at the urging of an unnamed Italo-American customer that already owns three Zondas, the Pagani Zonda R was created as a lightweight, track-only variant of the iconic coupe. Production is limited to ten examples with a price tag of 1.4-million euro. More info
Officially Official: Cadillac introduces the new presidential limo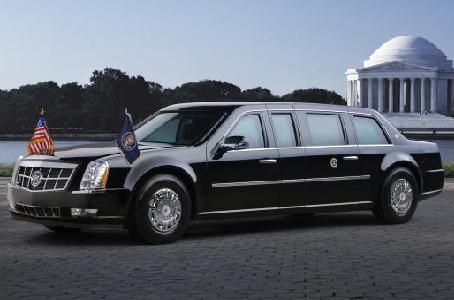 With fuzzy spy photos of the new presidential limo out in the open and Obama's inauguration less than a week away, Cadillac has finally released official photos of the Command-In-Chief's new ride. As expected, the new limo inherits Cadillac's current front- and rear-end design cues, but the overused fender vents on civilian Caddies are notably -- and thankfully -- absent. The back compartment where our new CIC sits is equipped with all the communications gear needed to stay in touch, and while we're picturing a few LCD screens, lots of buttons and a big red phone that silently rises from the center console, all we can do is imagine. More info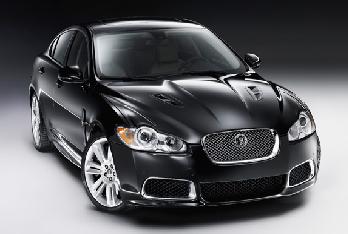 Jaguar XFR and reveal some juicy info on the British brand's new top cat. Set to go head-to-head with the big dogs in the high-performance luxury sedan segment, the XFR draws its motive force from a new version of Jaguar's AJV8 that's larger at 5.0 liters of displacement and supercharged to produce 510 bhp and 460 lb-ft of torque. That's good for a 0-60 mph run of just 4.7 seconds and a electronically limited top speed of 155 mph.The XFR is also fitted with new 20-inch Nevis alloy wheels and larger brakes with calipers bearing the "R" logo. More info
Nissan GT-R SpecV: Details, live images and video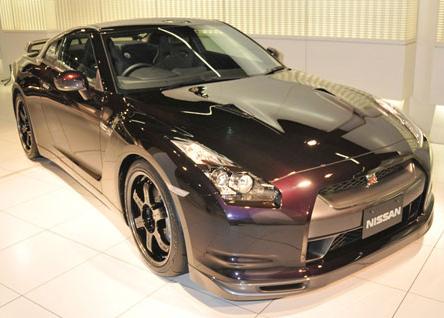 Nissan's press release on the GT-R SpecV left a lot of unanswered questions, particularly the geeky tidbits that we thrive on. So with the help of our friends at the GTRBlog, who were on hand for the unveiling in Japan, and a few of our super-secret sources abroad, we were able to scrounge up some of the more salient details on Nissan's upgraded Godzilla. To begin with, Nissan maintains that the GT-R SpecV is aimed at the discerning enthusiast, the same kind of buyer that would pass up the Porsche 911 GT3 for the RS variant. More info, video & pictures
Yet another special-edition Bugatti Veyron spotted in Dubai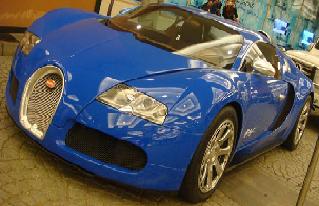 All Bugatti Veyrons are special, but some are most special than others. After seeing the seemingly endless parade of special editions of this most exclusive of supercar, George Orwell would have revised his work. Now, following the Sang Noir, Pur Sang, Fbg by Hermes, Grand Sport, a rumored Grand Sport Sang Noir, the Pegaso, a mirror-finish example and even the aftermarket Mansory Vincero, come these snapshots of yet another special edition Veyron. More info & pictures
Porsche Panamera to officially debut at Shanghai show in April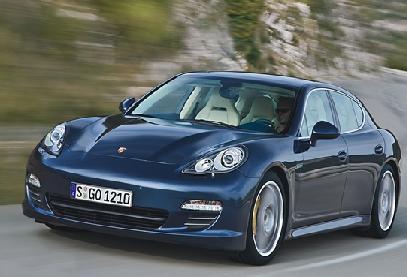 Underscoring the continued importance that automakers are placing on the Chinese market (especially in this difficult economic environment), Porsche has made it official that the new Panamera will debut in the Middle Kingdom in April. Porsche's new four door hatchback coupe/sedan gran turismo thingy will get its first public showing at the Shanghai Motor Show from April 20-28. In spite of its controversial looks, the Panamera should not be wanting for performance. Direct injected engines ranging from the Volkswagen 3.6-liter V6 up to 500 horsepower turbo V8 from the Cayenne will be available. More info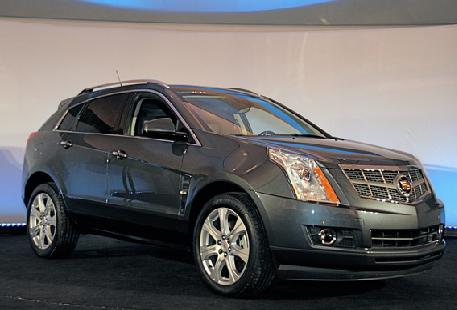 Almost exactly a year after revealing the Provoq Concept, Cadillac is debuting the redesigned 2010 SRX wearing essentially the same suit of clothes. At that time, the Provoq was thought to be a preview of a new smaller crossover called the BRX, but Cadillac informed us last summer that the "BRX" was actually the all-new SRX. We'll be seeing the new SRX in production form at the Detroit Auto Show, and while automakers often throw the term "all-new" around, in this case it really seems to apply. More info & pictures
2009 Mercedes-Benz CLS Grand Edition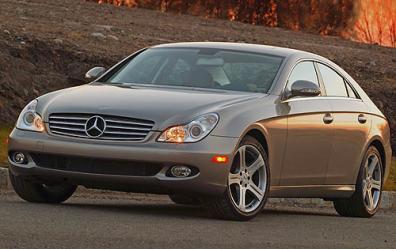 The Mercedes-Benz CLS is due for a refresh within the next two years, but before M-B releases an all-new version of its pioneering and often imitated four-door "coupe," at least one special edition is in order. The 2009 Mercedes-Benz CLS Grand Edition features a set of bi-xenon headlamps, with an integrated cleaning and range adjustment system, along with fog lamps that swivel with the steering wheel to illuminate around the bend. AMG provides a set of 18-inch, five-spoke wheels coated in titanium grey and wrapped in 245/40 (front) and... More info
Honda apparently decided that its home-market Zest Sports wasn't zesty enough. Away it went to the plastic surgeon for a freshened look with more flavor. The result is the Zest Spark. Instead of basically carrying over the base Zest's vanilla look up front, the Spark gets a new fascia with a V-shaped grille/lights combo hovering above the car's big, flat bumper. 660cc NA and turbo kei-spec engines reside underhood. More info
Rolls-Royce does another special edition Phantom, this time in Sapphire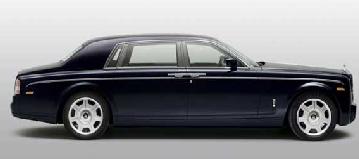 The bespoke department at Rolls-Royce has come up with another special edition Phantom to go along with the already released Phantom Pearl, Phantom Silver, and Phantom Tungsten. This one is the Phantom Sapphire, and unlike its rarefied stablemates, it gets built on the long wheelbase spaceframe.More info
Reiter Engineering builds Gallardo GT3 for the street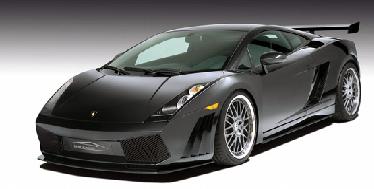 Turning road cars into race cars and then back into road cars seems to be Reiter Engineering's new specialty. The factory-supported Lamborghini race team, which also recently built a street-legal variant of their Murcielago R-GT that competes in the FIA GT1 and European Le Mans Series, is now offering a road version of their Gallardo GT3 racecar. Based off the standard Gallardo with the 5.0L V10, the "Strada".... More info
BMW announces pricing for 2009 7 Series, raises prices on everything else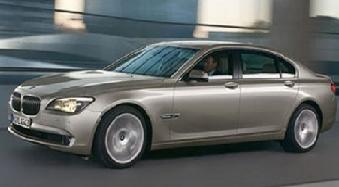 The latest iteration of BMW's all-singing, all-dancing plutocrat limo will roll out the door starting at $81,125. That sum will get buyers the 2009 750i (including $825 for destination charges), but those who are looking for a bit more legroom in back will have to pay $85,025 for the 750Li. Production for these models began last month, but don't expect to see them on the forecourts of your local BMW Center until later this spring.More info
Mansory builds mysterious Bugatti Veyron Vincero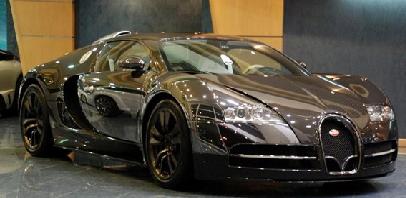 We're convinced the Bugatti Veyron has to have the highest ratio of variants per total production -- Ford Mustang included. There's the Sang Noir, a first and second version of the Hermes, Pur Sang, Grand Sport, and now the Vincero built by Mansory. Not much is known about the car since no information is listed on the Swiss tuner's web site, but United Arab Emirates exotic car dealer Prestige Cars has posted the car for sale, listing it as one of three built. More info & pictures
Audi Prices A6/S6 starting at $45,100/$75,900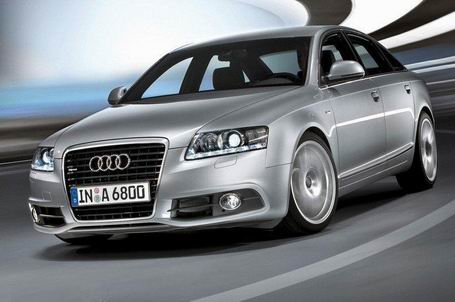 Audi's upgraded A6 and S6 are scheduled to hit US dealerships in January, and the four-ringed midsize sedan has new pricing to match its upgraded powertrains. The A6 3.2 premium stars at $45,100, a price bump of over $2,000 over the 2008 model. The newest member of the A6 family, which comes with a 300 hp supercharged 3.0L V6 and standard quattro AWD, starts at $53,310. That's $3,000 less than the starting price of the previous generation 4.2L V8, which packed more punch at 350 hp, but the 3.0T fights back with more low-end grunt and far better fuel economy. More info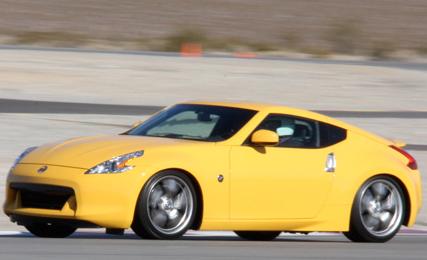 The moment the first batch of Z spy shots surfaced, it was obvious that Nissan's sports car was on its way back from the gym. The coupe was wider, shorter and more sculpted. Although the Z's overall length has been shortened by 2.7 inches, the wheelbase cut by 3.9 inches and a set of aluminum doors join an aluminum hood and hatch, Nissan has only managed to shave 95 pounds from the curb weight of the standard model. More info & Pictures
Updated SSC Ultimate Aero boasts 1287 hp, claimed top speed of 270 mph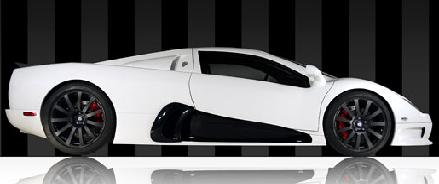 After taking the Guinness-verified top speed world record, SSC has revamped the Ultimate Aero for 2009 to make it more powerful, more aerodynamic, and even faster. We thought the 2008 model had plenty of horsepower with 1183 ponies underneath the hood, but SSC has increased that number to 1287 courtesy of a new one-piece billet aluminum engine block that improves structural integrity and oiling capabilities. More info
Detroit '09 Preview: Volvo S60 Concept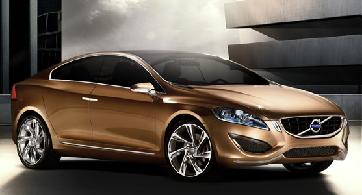 Next month in Detroit, the Volvo S60 Concept will serve up a teaser for the 2010 production sedan that'll likely debut later in the show season. The S60 Concept demonstrates that Volvo's new sedan will ditch the rather conservative duds it currently wears in favor of a new, much more aggressive visual ensemble. Profile views show off a coupe-ish roofline, while pointed headlights extend back onto the fenders and flank a reshaped, more detailed grille up front...More info & Pictures
Officially Official: 2010 BMW Z4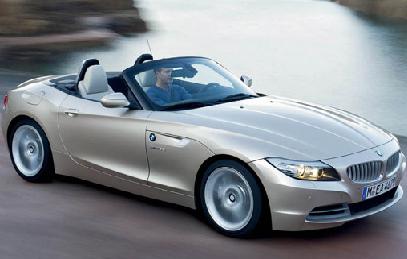 BMW will unveil the all-new Z4 roadster at the Detroit Auto Show next month, but there's no need to wait for the show in Motown to see the car in non-spyshot form, as all the Euro-spec details were officially released when the clock struck midnight in Munich. We're into the new bodywork, which is pretty voluptuous compared to the preceding model, with a hint of 507 lineage evident in the car's lines.Up front, wide double-kidney grilles establish an aggressive face. Out back, the tail is cleaner and more elegant than the current car's, featuring simpler...More info & Pictures
Aston Martin offers power upgrades to last-gen V8 Vantages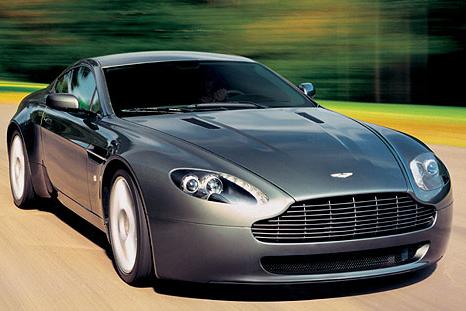 If you're a 2005-2008 Aston Martin V8 Vantage owner, you may have wished you'd held out for the 2009 model which benefits from an extra 0.4-liters of displacement (up from 4.3- to 4.7-liters) and gains an extra 40 hp and 45 lb-ft of torque, along with some revised suspension tuning. The crew at Gaydon feels your pain and has begun offering a new performance package for the 4.3-liter model. The kit includes a new induction system originally developed for the DBS that features a pair of toggling airbox valves that open at 5,500 rpm to bring more air into the engine. More info
Top 10 Most Stolen Vehicles in 2008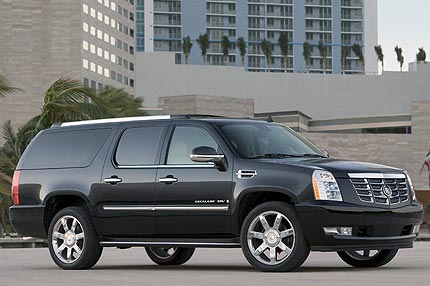 Ten Most Stolen Vehicles:
1. Cadillac Escalade ESV
2. Ford F-250 SuperCrew
3. Cadillac Escalade
4. Dodge Charger
5. Ford F-350 SuperCrew
6. Hummer H2 SUT
7. Dodge Magnum
8. Hummer H2
9. Dodge Durango
10. Honda S2000 convertible
2010 Mercedes E-Class - official image leaked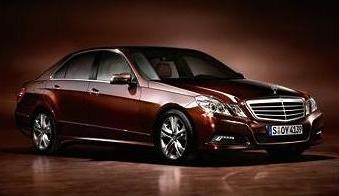 Now itís official, the future E-Class sedan will take some cues from its S-Class big brother. This includes a sleeker body than the current model, with harder crease lines and a slightly rising rear-end.A correction from the earlier post has the E-Class sedan premiering at the Detroit Auto Show in January, the coupe bowing at the Geneva Show in March. Mercedes to offer a wide variety of V6 and V8 engines, including a 525 hp 6.3-liter V8 for the E63 AMG model.
Audi R8 V10 5.2 FSI quattro unveiled ahead of Detroit (new official images)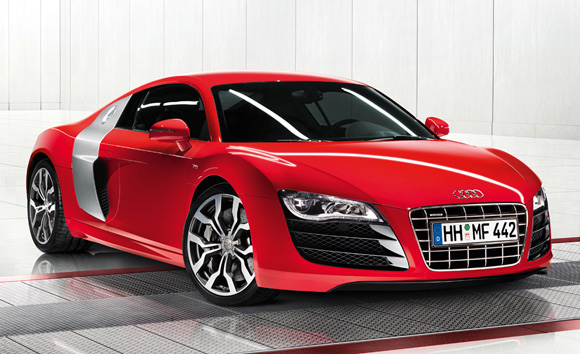 For those who still have sufficient cash-flow to purchase high end sports cars, the latest and greatest remains a must. In keeping with that reality, Audi is cranking up the juice on its flagship R8 sports car with the introduction of the R8 V10 5.2 FSI quattro, which got an early reveal on the web today. The R8 shares some less visible bits with its corporate cousin, the Lamborghini Gallardo, but until now the Lambo's V10 engine has remained exclusive to the Italian side of the family. More info & Pictures
Mercedes considering two-seat roadster based on the A-Class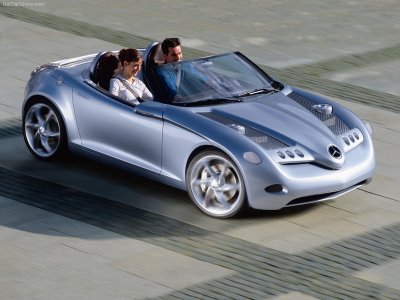 As goes Volkswagen and BMW, so goes Mercedes. Since VW/Audi are going to make a small roadster and BMW is toying with the idea of a Z2, Mercedes doesnít want to be left out, and is exploring the idea of making its own roadster based on the A-Class. Mercedes already has a few design studies to work from, and itís looking back to the SLA concept from the Detroit Auto Show in 2000. "It is part of the regular new-model review at Mercedes-Benz to look at ideas from the past," a senior Mercedes-Benz official told AutoWeek. "When the SLA was originally proposed at the end of the last decade, we didnít have a suitable platform; the sandwich platform is too high and too heavy. More info
Nissan unveils NV2500 light commercial vehicle concept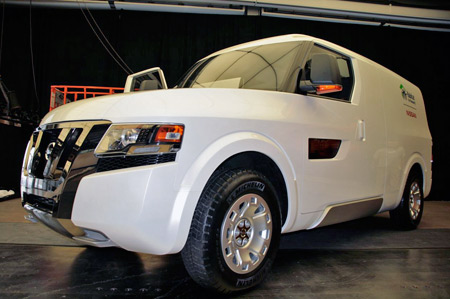 Today at the Nissan Technical Center in Farmington Hills, MI, Nissan revealed its new NV2500 concept commercial van. The NV2500 is a preview of its upcoming light commercial vehicle that will debut in 2010. The NV2500 will be taking the place of the Titan pickup at the company's Canton, MS assembly plant and take Nissan into a new market segment in North America. Nissan's Communications VP Alan Buddendeck explained that the automaker competes in the commercial vehicle market around the world and wants to round that out with North America. More info