Jaguar prepares R Performance Academy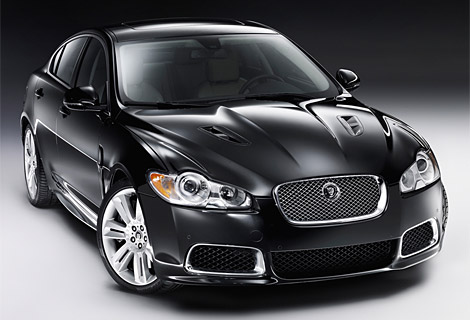 The Jaguar XFR and XKR are two of the most powerful Jaguar's ever built. When either vehicle is placed in the hands of non-experienced driver they could cause serious damage – to both the car and driver. To remedy this predicament, Jaguar is thinking of launching an R Performance Academy for new owners of the XFR and XKR models. The school will open in April and the cost for one day's instruction will be £400. Jaguar also plans on creating a Jaguar World, in the style of the Mercedes-Benz Welt. With this attraction the company hopes to expose Jaguar's cars to a wider audience. More info
Lamborghini Murciélago LP 670-4 SuperVeloce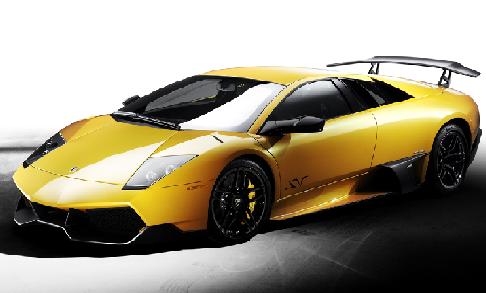 Bologna's best automaker has just released official info and pics on its latest mighty Murc, and this one tops them all. The LP 670-4 SuperVeloce is described by Lamborghini as "exceptionally purist". The description fits as the LP 670-4 SV is more powerful, lighter and therefore faster than the already pretty quick LP-640. As its name suggests, the LP 670-4 SV boasts an increase in power to 670 hp and 487 lb-ft of torque for Lambo's 6.5L V12, all of which was achieved through simply optimizing the engine's valve timing and tweaking the air intake system. More info & pictures
The doors to the 2009 Geneva Motor Show have yet to be officially flung open, but images have already begun emanating from the Geneva PalExpo center. The latest come courtesy of Asphalte.ch who are right now running around the show floor and taking pictures of everything that's not covered up. These are of the Ferrari 599XX and directly responsible for the pool of drool at my feet right now. Based on the 599 GTB Fiorana, the 599XX features the latest application of Ferrari's extensive research in F1 racing to a road going car.. More info
Pagani bringing "hybrid" Zonda F Cinque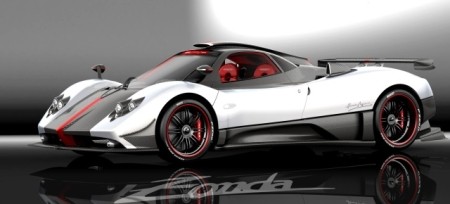 The Pagani Zonda F Cinque seen here isn't a hybrid as in "green," it's a hybrid of the Pagani F and the Pagani Cinque. The car, slated to star at the Geneva Auto Show, is a one-of-a-kind Pagani simply meant to hold a place in our hearts while we wait for the Pagani Cinque to arrive next year. The car hasn't been finished yet, but the Zonda F Cinque is essentially a Zonda F in Cinque colors. More info
Smart gets Limited Edition Three treatment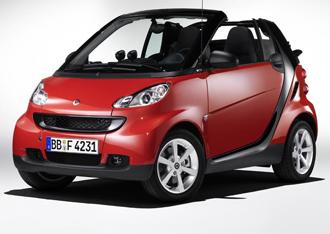 The "edition limited three" model tugs at our temporal heart strings with a new exterior color called Melon Green Metallic. The Spring-ish hue is carried over into the top soil-colored interior where it's used as an accent on the seats, door panels and dash. smart says the interior also features dark brown "leather-effect details" – spoken like a true economy car salesman. Available as a coupe or cabrio, the "edition limited three" is based on the company's Passion trim level and also adds mhd, or Micro Hybrid Drive.. More info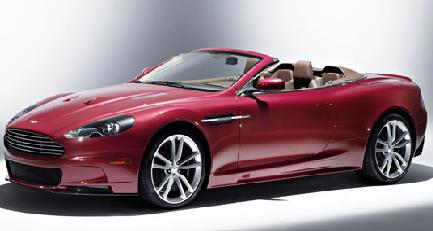 The drop-top version of Bond's uber-Aston features a fabric roof that can be retracted in 14 seconds at speeds up to 30 mph and supposedly looks just as good with the top up as the top down. Motivation is provided by the same 6.0-liter V12 found in the standard DBS, putting out 510 hp and 420 lb-ft of torque to a rear-mounted six-speed manual or "Touchtronic" sequential gearbox. The run to 62 mph is dispatched in a scant 4.3 seconds on its way to a top speed of 191 mph. More info
BMW releases pricing for M Sport Packages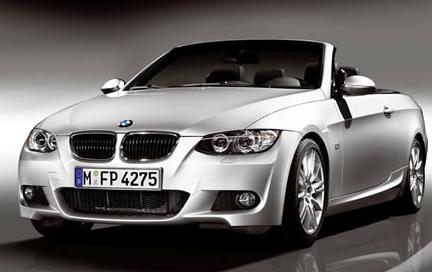 BMW has released pricing information on its new "M Sport Package" for specific 3 Series, 5 Series, and X5 models. The package allows buyers to purchase many of the "M-Technik" (aka Motorsport) go-fast cosmetics commonly found on the BMW M3 and BMW M5 in a factory package (sans the screaming V8 or V10 and the upgraded brakes, of course). While the "ZMP" package varies from model to model, it generally includes sport-tuned suspension, upgraded wheels, sport steering wheel, sport gearshift lever, anthracite headliner, aggressive sport bodywork... More info
Audi TT RS official pics, details hit the web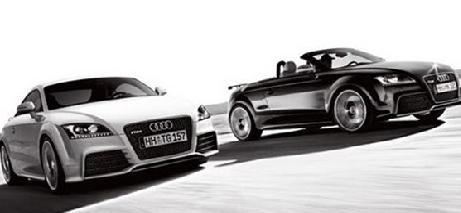 Audi TT RS will arrive in both coupe and convertible bodystyles. Both are powered by a 340-horsepower, 331 lb-ft, 2.5-liter turbo five cylinder. The driver rows a six-speed stick, and quattro channels power to all the wheels. 0-62 mph takes under 5 seconds. As the teaser shots hinted, look for more aggressive front and rear fascias, LED driving lamps, and a fixed rear spoiler. More info & pictures
Giugiaro concept claimed to be the world's fastest hybrid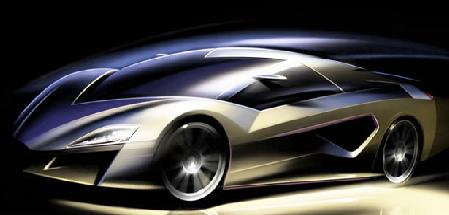 Giorgetto Giugiaro has a series of successful concepts under his belt, including the Ferrari GG50 and his own interpretation of the Mustang. But his most recent design exercise -- the Italdesign Quaranta, shown at last year's Geneva Motor Show -- was a clear indication that he was moving beyond bespoke bodywork and taking a long look into the future of the automobile. At this year's Geneva expo, he'll take the wraps off another hybrid concept..More info
McLaren wants to increase its output by several thousand units over the next five years and the new "entry-level" supercar is where it expects to find the sales. In an effort to reduce costs, the mid-engine coupe will be based off the P11's rear-wheel-drive chassis, with motivation provided by AMG's 6.2-liter V8. Keeping size and weight in check are two of McLaren's primarily goals, so expect a footprint smaller than the R8, a composite body and plenty of aluminum. Early speculation says that around 450 hp will be transmitted to a semi-automatic gearbox..More info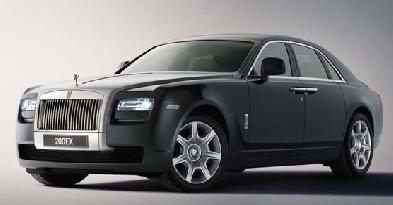 Rolls-Royce has finally released the official details and images of its baby Roller, the 200EX. The name draws its inspiration from the "experimental" prototypes that Rolls created during the pre-war era, but this version is more modern and has its sights set on the Bentley Continental Flying Spur. While Rolls-Royce has deemed the Geneva-bound 200EX a concept, expect almost every exterior and interior detail to carry over to the production model when it arrives in 2010. More info & pictures
1600 HP Ultima claims world's quickest car title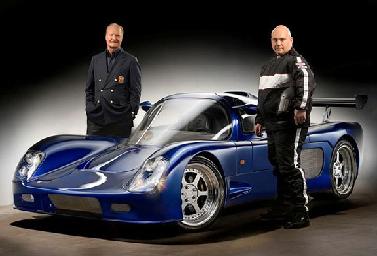 In this case, chauffer Marlon Kirby and financier David McMahan took the Ultima GTR – which already claims the fastest quarter-mile, 0-100-0, Nürburgring (almost) and Top Gear (unofficial) track times – and dropped in an all-aluminum 7.0-liter Chevy small-block V8 with twin turbochargers to bring the power rating up to 1600 horses, calling the resultant monster the Maxximus G-Force. All those ponies drive through a three-speed sequential gearbox, while six-piston AP Racing calipers gripping 14.2-inch discs handle the stopping power. More info & videos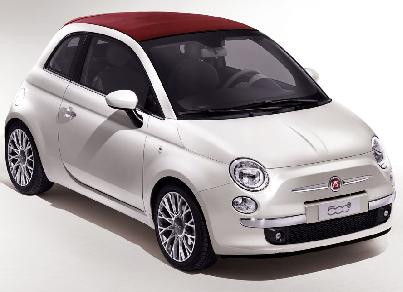 As promised Fiat offered today a preview of its future 500C set to be revealed in March at the Geneva Motor Show. The 500C has the same dimensions as the coupe version: 3.55 m x 1.65 m x 1.49 m. It is also powered by the same three engines available in the hardtop: a 1.3-liter 75 hp Multijet turbodiesel, 1.2-liter 69 hp gad unit, or 1.4-liter 100 hp gas engine. The big difference is what Fiat calls, "a fully fledged window to the sky." The 500C follows in the tradition of the original Fiat 500 and uses a rolling roof design that allows the car to retain the shape of the coupe. More info & pictures
Mercedes introduces armored E-Class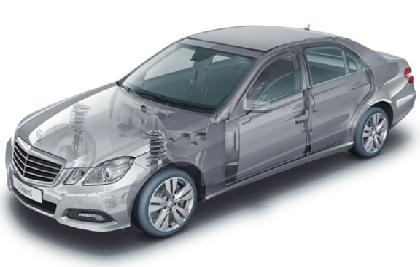 The E-Guard is the latest addition to the automaker's line of armored vehicles, based on the standard E-Class and upgraded with an array of security measures. Mercedes installs body armor right into the chassis, replaces the windows with bulletproof polycarbonate, a blast-proof floor and run-flat 17-inch tires. The result is virtually indistinguishable from a standard E-Class, making the E-Guard less of a target for would-be assassins and carjackers in the world's less friendly locales. More info
ARK ReDesign unveils three-door Range Rover Sport conversion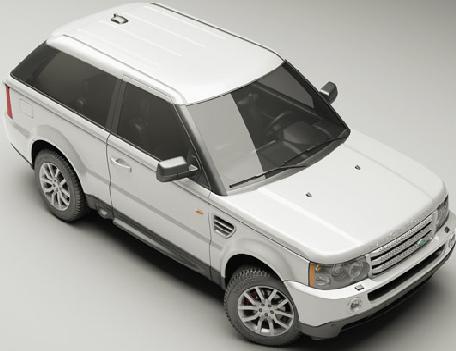 Land Rover has been threatening to build a sport-oriented three-door model for some time now. The British offroaders first whet our appetites with the Vesuvius orange Range Stormer, a 2004 show vehicle that eventually evolved into the production five-door Range Rover Sport. More recently, Land Rover has shown off the LRX, also a three-door concept, but word is that it, too, could grow an extra set of doors by the time it reaches showrooms. Thus, the aftermarket has taken up the slack, with companies like LSE taking up the slack and building shortened, "coupified" versions of the Range Rover Sport. More info
$2M DiMora Natalia SLS 2 to get world's first MP3-enabled horn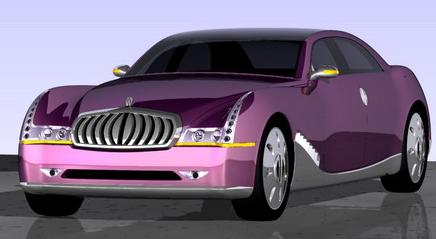 Spend two million bucks on a car, and you'll get to have whatever the hell you want as a horn tone. Alfred DiMora is back, adding more splashy aftermarket items to the list of standard equipment on his Natalia vaporware sport luxury sedan. DiMora Motorcar has decided that the Horntones system will be factory-fitted to every V16 Natalia SLS 2 produced. So far, that's none. This isn't the first time the Natalia has specified an item cherrypicked from SEMA awards, and we suspect it won't be the last. More info & pictures
2010 Lexus RX350 starting at $36,800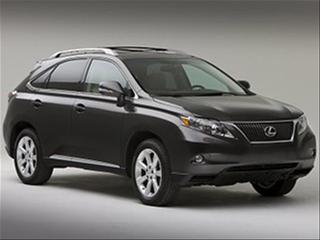 The new luxury crossover from Lexus will hit dealerships later this month, with a base MSRP of $36,800 for the front-wheel-drive model and $38,200 for the all-wheel-drive variant (neither price includes the $825 destination charge). The RX350 comes packing a revised 3.5-liter V6 sending 275 hp and 256 lb-ft of torque to a new six-speed automatic transmission. The AWD version features an Active Torque Control system that splits power anywhere between 100:0 to 50:50, front to rear, depending on the conditions. More info
Audi wants a new Murcielago competitor?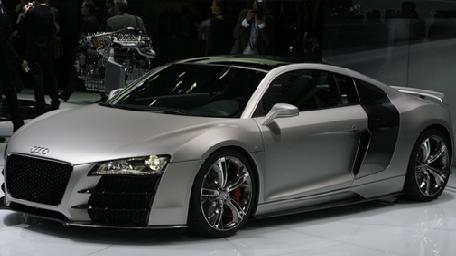 According to Inside Line, Audi officials confirmed that they are working on a car that car take on the Lamborghini Murciélago LP640. That's impressive for two reason. First, Audi controls Lamborghini, so using a corporate sibling as a competitor is a little odd. Second, the V10 in the 5.2 R8 is plucked from the Lamborghini Gallardo LP560-4, so to get a car to compete with the next Lambo up the ladder is going to take a lot of work. More info
First Bentley Zagato GTZ available at $1.7M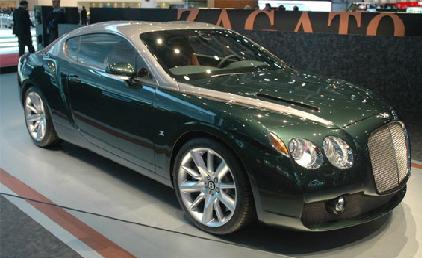 There will be nine examples of the Bentley Zagato GTZ manufactured for discerning plutocrats. As of now, one of them is ready for an owner, and it is for sale on JamesList.com from a broker in Villorba, Italy for €1.3 million, or about $1.7 million USD. Purportedly the only one ready for delivery, this particular GTZ has just 10k (6.1 miles) on its odometer. Unveiled at the Geneva Motor Show last March, the GTZ leaves the engineered perfection of the Bentley Continental GT as is, More info
Aston's seven-figure, 700hp One-77 still available for order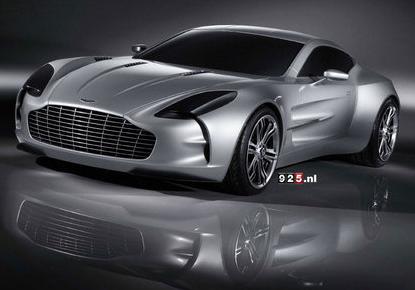 The One-77 is the big-ticket supercar in question, to be built in a limited run of 77 examples, with only six headed to the US, five staying in the UK and the remaining 66 ending up in the Emirates dispersing around the world. Previous reports circulating the interwebs suggested that the entire production run sold out almost immediately – before the car was even fully unveiled – but those reports may have been misleading. Although 100 potential customers reportedly expressed interest in acquiring the uber-supercar, the order books have apparently yet to be filled with buyers who've plunked down the £200k desposit. More info
2010 Mitsubishi Lancer Sportback on sale in U.S. this summer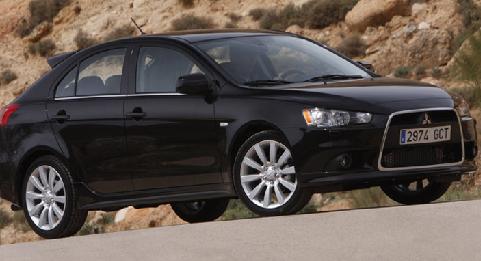 Mitsubishi finally announced what we've known all along: the five-door Lancer Sportback is coming to the States for the 2010 model year and sales will begin this summer. The 2010 Mitsubishi Lancer Sportback builds on the already competent Lancer sedan, although the overall length is slightly longer to accommodate the new hatch. One-touch auto-folding rear seats split 60:40 to make room for "active lifestyle" parcels and Mitsubishi dropped the rear cargo area floor by three inches to create 52.7 cubic-feet of space when the rear thrones are folded flat. More info
Volvo announces 2010 XC60 pricing starting at $37,200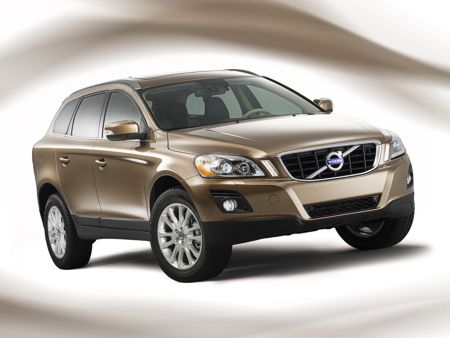 Pricing has been released for the 2010 Volvo XC60 crossover, and the T6 with standard AWD and Volvo's pioneering City Safety low-speed collision protection system will have a base price of $37,200 plus destination. Power is provided by a turbocharged 3.0L T6 engine pumping out a solid 281 hp and 295 lb-ft of torque. Premium features like leather, power driver's seat, SIRIUS, Bluetooth, and HD Radio with USB and AUX ports are all standard.The Panorama moonroof will even be offered at no charge as part of an introductory offer, although Volvo hasn't said how much it will run after that. More info
Porsche unveils updated 911 GT3 for 2010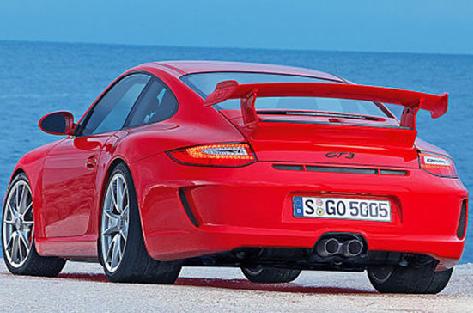 Porsche has released photos of the new 2010 911 GT3 ahead of its official debut at the Geneva Motor Show in March and the revised model features a host of upgrades that make it even more potent than its predecessor. The naturally aspirated flat-six has been enlarged to 4.0-liters, and now produces 435 horsepower good for a 0-100 km/h sprint in 4.1 seconds and a top speed of 193 mph. Handling is improved as well, with a modified stability management system that allows for graduated settings for both stability and traction controls, along with enlarged carbon ceramic brakes that improve stopping distances. More info & pictures
World Car of the Year - finalists announced
The WCOTY (world car of the year) will be announced in April at the New York Auto Show, but now we can narrow it down to 11 finialists: More info
- Audi A4 / Avant
- BMW 7 Series
- Citroen C5 Sedan / C5 Tourer
- Fiat 500
- Ford Fiesta
- Honda Fit / Jazz
- Jaguar XF
- Mazda Atenza / Mazda6
- Nissan GT-R
- Toyota iQ
- Volkswagen Golf VI.
911 Carrera and Targa 4 get new Sports Exhaust System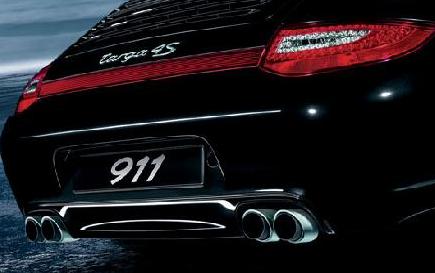 To get the most out of a Porsche exhaust system, it has to be tuned to a tone that would likely get its owners in trouble with noise ordinances in their well-heeled neighborhoods. But Porsche doesn't want its enthusiasts to drive tames cars, and it developed a new adjustable sports exhaust system for the Carrera and Targa 4. The heart of the system is the exhaust flap on each main silencer activated by the engine's electronic control system and switching over to a more sporting sound as soon as the driver activates the sound mode. More info
Ferrari Hyabusa Trike on display in Tokyo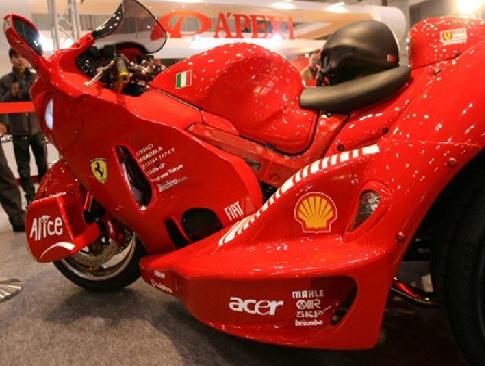 Mirroring the "styling" of a Scuderia Ferrari F1 car, this one-off trike was spotted at the banzai Tokyo Auto Salon by the same people who brought us the no-less-bonkers Lamborghini ATV. Based around a 1.3-liter Suzuki Hayabusa engine and frame, this (thankfully) unique example was built by Trike Japan in order to showcase what they can do. We certainly hope the rest of their portfolio is a bit more tasteful than this showpiece, but we won't be holding our breath. More info, video & pictures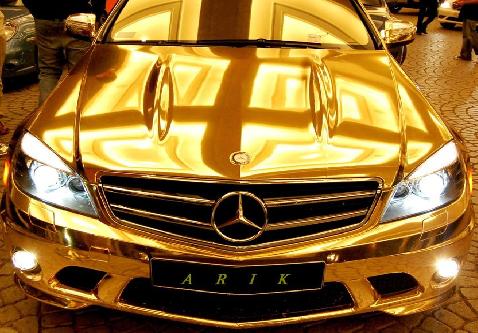 Looks like Dubai likes its chromed Mercedes. Back in October we saw a chromed SLR in the desert city, and now we have pics of a C63 AMG going for the ultimate bling.The look-at-me-shine of this car just can't match the appeal of a simple matte black paint job.
Alfa Romeo to launch Junior sportscar based on MiTo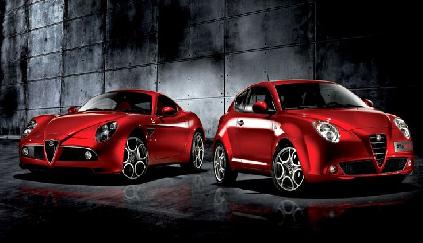 While the Alfa MiTo was under development, speculation placed a number of different nameplates on the sport hatch. One of them was Junior, but new reports suggest that Alfa may in fact be preparing an additional model to carry the Junior name. Although the MiTo was earmarked to hold down the lower end of the Alfa Romeo range with styling drawn from the 8C Competizione, in terms of body style, at least, the new Junior may in fact be closer to the halo supercar – more of a sports coupe than a sport hatch. More info